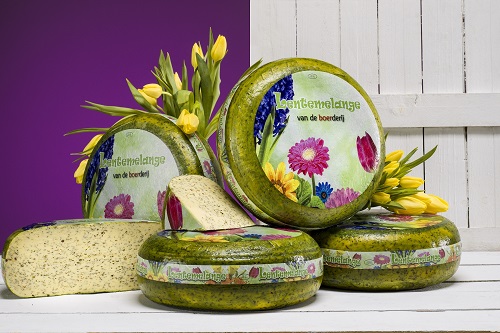 Seasonal cheese
What could be nicer than sitting in front of the fireplace after a long day at work with a good glass of wine and a warming piece of cheese? For the cheese lovers among us this is of course pure pleasure on a cold winter's day. In spring, on the other hand, when the birds are singing outside and the sun is shining nicely, you naturally want to enjoy a refreshing piece of cheese. What could be a tastier snack? Seasonal cheeses are and remain highly sought after by cheese lovers. A matching cheese for every season, warming or refreshing. Do you already know the unique seasonal cheeses of farmer Slob? These are very popular every season.
Farmer Slob from Giessenburg
Of course, only one can be the best. This also applies to the production of herb cheeses. Farmer Slob from the town of Giessenburg in the province of South Holland is also known as the specialist in the field of herb cheeses. Every season he makes a special herb cheese that matches the season in question. He comes up with the recipe for these seasonal cheeses all by himself. The perfect recipe is created after a long period of trying, tasting and experimenting. Ultimately, this is how the best herb cheese of the season is created.
The seasonal cheeses of farmer Slob
As mentioned, you can expect a unique herb cheese of armer Slob every season. The true cheese lovers among us wait every season with a lot of longing, and little patience, until farmer Slob presents his newest seasonal cheese. In the winter, farmer Slob brings a warming, rich herb cheese to the market. For example, there is the Winter blend cheese, a delicious warming cheese which is perfect to enjoy on a cold winter's day. In the spring you naturally want a refreshing cheese. That is why there is, for example, the Spring blend cheese, with fresh, cooling ingredients to enjoy on a sunny spring day.