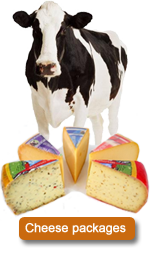 Lactose-free cheese
* All cheeses in the range contain no lactose. These are lactose-free cheeses.
A delicious lactose-free cheese
Do you have lactose intolerance? Then our lactose-free cheeses are ideal. Now you too can enjoy a savoury snack, a tasty bite or a delicious sandwich without adverse effects. Many people think that lactose-free cheese will taste differently to normal cheese, but that's not true. 'Lactose-free' does not mean that your cheese has less character or taste. All the cheeses on this page are tasty, creamy and full of flavour. As a rule, it is difficult to determine whether a cheese contains a small amount of lactose or whether all the milk sugar has completely disappeared from the cheese. Here with us, you will only find cheeses completely free of lactose, so you do not have to worry about that. All our lactose-free cheeses are therefore perfectly suited for people with lactose intolerance. Also in people without proven allergies, lactose can cause annoying complaints. Do you belong to this group? Then you can always try a lactose-free cheese and discover if that suits you better.
Fully matured Gouda cheese has a maturation period of 7 to 8 months. Over this period the cheese develops a nice piquant flavour without losing its natural creaminess. Especially for the cheese lover who likes something more robust on his lunch sandwich fully matured cheese is highly recommended. Our fully matured Gouda cheese is a cheese of the very highest quality.

Learn More

Why not treat yourself with a nice piece of crumbly cheese. This Gouda cheese variant is strong, spicy and nutty in flavour and larded with crispy salt crystals.

Learn More
Old Friends Cheese is in a class of its own. This is a very specific kind of cheese and a genuine delicacy. It has a creamy and zestful palate and is friable in texture.

Learn More

Old Gouda cheese, in Dutch 'overjarige kaas', has a maturing period of more than a year. During that time the salt inside the cheese has crystallized, therefore this very mature cheese has a very rich and salty flavour.

Learn More
Enjoying full flavor, Old Amsterdam will give you just that. The special flavor of Old Amsterdam is the result of a combined passion for making cheese and special flavors.
This Old Amsterdam cheese has been awarded in 2014 with the Superior Taste Award.

Learn More

Extra quality cheese. Gorgeously spicy and creamy in flavour.

Learn More
What is lactose-free cheese?
Almost every type of milk contains milk sugar, also called lactose. Lactose is a carbohydrate and occurs not only in milk itself but also in all products made with milk. Normally, lactose is broken down by the body, but in people with lactose intolerance, this does not, or only partly, happen. In this group of people, the body naturally builds too little lactase, which means that the milk sugar is not processed and yeast enters the intestine. For these people, eating cheese or consuming other milk products can lead to annoying gastrointestinal or intestinal complaints. A lactose-free cheese contains no lactose, or only a minute amount, which means it will not cause these complaints.
Breakdown of lactose in mature cheese
Lactose intolerance is less common with a mature cheese than with young, mild or fresh cheeses. This has to do with the ripening (maturing) of the cheese; the older the block of cheese, the less lactose remains inside it. The milk sugar is in time completely broken down, which also allows people with lactose intolerance to enjoy it. Most hard cheeses, such as crumbly Gouda cheese or Old Amsterdam, are completely lactose-free. Also, in most of the extra-mature cheeses, little to no lactose is present. If you notice that you are suffering after eating mild cheese, fresh cheese or cream cheese, try out if a mature, hard cheese remedies the problem. If so, then you know that lactose-free cheese can be something to choose in future!