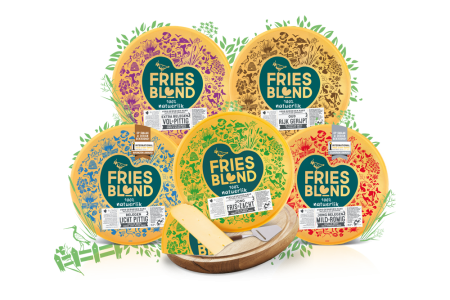 Friesblond
By choosing Friesblond you always buy a 100% natural cheese. They've added absolutely no additives and coloring agents, so you can enjoy cheese the way it's meant to be. The Friesblond cheeses have a full and creamy taste and a very light color, and are free of lactose. This makes them suitable for those who have a lactose intolerance, and therefor perfect for the entire family. Everybody has a different taste, but with our extensive range of Friesblond cheeses we have a variety for everyone. Nice on your daily sandwich, or as a rolled up slice, straight out of your hand.
All Friesblond cheeses are made with love. Love for nature, but also for cows. In their cheese factory in Heerenveen they use nothing but milk from cows that graze outside for the biggest part of the year. Their natural diet has its effect on the taste and quality of the milk. They eat fresh grass, clovers, meadow flowers, and more natural goodness. This creates meadow milk with a very light, fresh taste, that eventually results in a 100% natural cheese. You'll taste only the best that nature has to offer in all of their cheeses, no matter which variety you pick. The way they ripen the cheeses is also of influence on the taste. They are slowly ripened at wooden shelves in the cheese factory, until they finally reach the perfect consistency and flavor. That's all you need for a delicious (and honest!) cheese.
Friesblond cheeses are pure and simple, just the way cheese is meant to be. Milk, a starter culture and rennet are all you need to create a tasteful cheese. With their wide selection of varieties there is one for every cheese lover. Will you go for the young and creamy one or do you prefer a more aged cheese that's a bit more salty? No matter which one you pick, they are all free of lactose, very tasty and 100% natural.