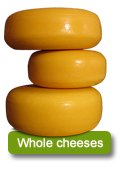 Details Matured Gouda Cheese | Premium Quality
Matured Gouda cheese has a maturation period of 16 to 18 weeks. Because of this its taste is somewhat stronger than that of young Gouda cheese and semi-matured Gouda cheese, but it is still milder in flavour than aged cheese. Rather, the flavour of our matured cheese can be described as full and creamy. What is more, it contains advantageous building blocks for your body such as calcium and vitamin A, B and D. Especially good for your immune system.
Ingredients:
Fat 48+ , pasteurised cow's milk, rennet, salt, lactic acid, vitamins A, B and D

Quality:
Your cheese is freshly cut and vacuum-packaged!
The hard structure of Dutch cheese makes it perfectly suitable for sending by post.
Original Gouda Holland Cheese:


Gouda cheese:
Gouda cheese is one of the most popular cheeses in the world. Unfortunately, the name Gouda cheese is not protected, so the term is not restricted to cheese from Dutch origin alone. However, when a cheese is labelled 'Gouda Holland', this is the original Dutch Gouda cheese. Of course, this is also the cheese we sell in our shop. We have Gouda cheese on offer of different maturation, ranging from young cheese (matured 4 weeks) to very old cheese (aged 3 or 4 years).
Additional Information
| | |
| --- | --- |
| Dimension whole cheese | +/- 37 cm Ø x 11 cm H |
| Brand | Home brand Freshly cut |
| Flavor strength | Pithy |
| Nutritional information | per 100 grams |
| fat (gr) | 32,5 |
| Saturated fat (gr) | 20 |
| Calcium (mg) | 821 |
| Calories (kcal) | 368 |
| Kilojoules (KJ) | 1526 |
| Carbohydrates (gr) | 0 |
| Protein (gr) | 25,5 |
| Sodium (mg) | 719 |
| Type of milk | Cow |
| Pasteurised | Yes |
| Lactose free | No |
| Gluten free | Yes |
| Type of rennet | Abomasal rennet |
| Sugar free | Yes |
| May contain traces of peanuts. | Yes |
| Edible cheese rind | No |
| Recipe | No |