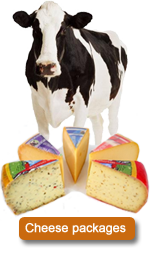 Details Smoked Gouda Cheese | Premium Quality
Smoked Gouda cheese acquires its distinctive smoky flavour from the smoke-curing process it has undergone. As a result of this very same process the cheese typically has a yellowish-brown outer skin. Smoked Gouda cheese makes a wonderful addition to your lunch sandwiches. In Dutch cuisine it is used in traditional 'mash pots' as to provide them with a somewhat more exotic flavour. We sell smoked cheese by piece, but also in sausages of 200 and 500 grams.
Ingredients:
Fat 50+ , pasteurised cow's milk, rennet, salt, lactic acid

Quality:
Your cheese is freshly cut and vacuum-packaged!
The hard structure of Dutch cheese makes it perfectly suitable for sending by post.
Additional Information
| | |
| --- | --- |
| Dimension whole cheese | +/- 37,5 cm Ø x 9 cm H |
| Brand | Home brand Freshly cut |
| Flavor strength | Mild |
| Nutritional information | per 100 grams |
| fat (gr) | 24,5 |
| Saturated fat (gr) | 14,5 |
| Calcium (mg) | 575 |
| Calories (kcal) | 311 |
| Kilojoules (KJ) | 1306 |
| Carbohydrates (gr) | 0 |
| Protein (gr) | 22 |
| Sodium (mg) | 1100 |
| Type of milk | Cow |
| Pasteurised | Yes |
| Lactose free | No |
| Gluten free | Yes |
| Type of rennet | Abomasal rennet |
| Sugar free | Yes |
| May contain traces of peanuts. | Yes |
| Edible cheese rind | No |
| Recipe | No |