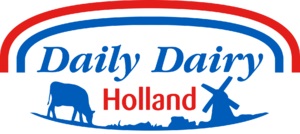 Daily Dairy
Daily Dairy is proud of their own premium brands like the Amanti, V.S.O.C, Mocca D'or, Frysk Hynder and our Paulus Beer Cheese according to an authentic recipe from medieval monks.
Mocca D'or coffee cheese is made for real coffee lovers. The great slow roast method, in which Mocca D'or is an expert, created a great collaboration for Daily Dairy. The slow roast method roasts the coffee beans for longer to release a strong aromatic coffee flavour.
Frysk Hynder Whiskey cheese is inspired by the famous Frisian horse breed Frysk Hynder. This cheese is matured in wooden barrels, uncooled, unfiltered and unmixed Frisian whiskey infused with unique aromatic flavors. Daily Dairy likes cheeses that are unique and they immediately loved the Frysk Hynder Whiskey cheese.
Amanti, cheeses made for real cheese lovers. Our Amanti line was created when Daily Dairy wanted to set up its own herbs cheese range. In the Amanti line there are all unique cheeses, such as Guacamole, Limocello, Forest Fruit or of course Gouda cheeses such as cumin or sambal.