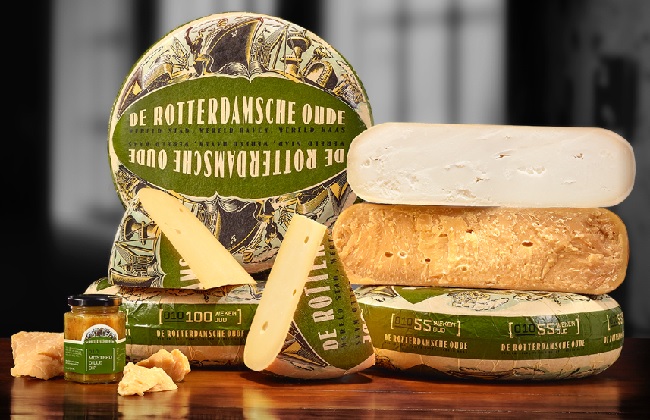 De Rotterdamsche Oude has some delicious cheeses in its range. Of course these are all old cheeses. You can choose from the following variants: De Rotterdamsche Oude 36 weeks, De Rotterdamsche Oude 55 weeks, De Rotterdamsche Oude 100 weeks and finally De Rotterdamsche Oude Goat 28 weeks. All these variations are, as the names already suggest, matured to perfection for a long time. Every variant has its own unique recipe. That is what makes the cheeses of De Rotterdamsche Oude so special. Every cheese has a unique character and a distinct taste.
De Rotterdamsche Oude
Years ago, Rotterdam did not have its own cheese yet. A group of Rotterdam businessmen decided to changed that. And so De Rotterdamsche Oud was born. Real Rotterdam cheese. The logo of De Rotterdamsche Oude was designed in the characteristics and colors of the city of Rotterdam. There are various variants of De Rotterdamsche Oude on the market today. All of them with a distinct taste and unique character. The mission of the men behind the brand is to allow as many people as possible to enjoy old cheese intensively. The vision is to introduce the world to the unique Rotterdam cheese brand.
The production of De Rotterdamsche Oude cheese
Time is perhaps the single most important ingredient of De Rotterdamsche Oude cheese. Time ensures that the cheese can mature optimally and can develop the delicious, distinct taste. The makers of De Rotterdamsche Oude offer every cheese enough time to ripen to perfection, under the ideal circumstances. The cheese is aged on pinewood planks, which ensures an even better taste development. Moreover, delicious fresh milk from Dutch cows forms the basis for the cheese. This milk is of high quality, which of course benefits the final taste of the cheese.