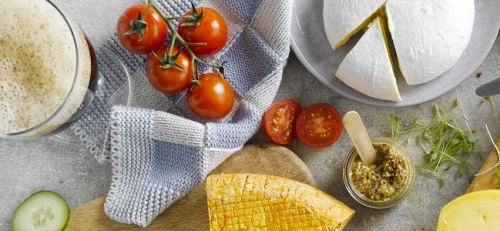 Do you see Belgium as the country of delicious fries, waffles, chocolate and specialty beers? Although this is completely correct, there is really something missing in this picture… Cheese! Few people are familiar with the Belgian cheese culture, but did you know that some of the tastiest cheeses are made there?
Abbey cheese St. Bernard
Abbey cheese St. Bernard is an authentic Belgian cheese. It is a semi-hard cheese with a brown coated rind. The cheese is characterized by a creamy and soft structure. Moreover, the cheese has a rich history. Its production started over a century ago in Watou, Belgium. Today the production of the Abbey cheese St. Bernard is in the hands of Belgomilk in Moorslede.
Bruges Blomme
Bruges Blomme is a true delicacy from West Flanders in Belgium. This Belgian cheese is a soft cheese with an edible white mold crust and is characterized by a refined, creamy taste. The cheese is aged in special nets in a moist cheese cellar for 4 weeks. The white mold crust also adds a slightly spicy flavor to the cheese.
Chimay Grand Cru
Chimay Grand Cru is an authentic Trappist Belgian cheese from Chimay in Belgium. This special cheese is produced exclusively with regional milk, which is harvested from 250 local farmers. The Chimay Grand Cru is a semi-hard cheese with a unique taste. The cheese owes this flavor to the fact that the rind is washed with the Trappist beer Chimay. The cheese has a fairly strong aroma, a nutty taste with a hint of hops and malt and a hint of bitterness. Despite the strong aroma, the cheese itself is somewhat mild with a creamy, creamy taste.
Passendale
Passendale comes from the eponymous municipality of Zonnebeke, Belgium. This Belgian cheese has managed to conquer its place on the Dutch cheese market. Passendale is a real classic for every cheese lover. It is a delicious semi-hard, authentic cheese in the form of a farmer's bread.