What many people don't know is that there is a wide variety of cheeses in Spain. All kinds of cheese are made in Spain, from hard to soft and from mild to spicy. Think of young cheese, matured cheese, extra matured cheese, blue cheeses, white cheese, smoked cheese and even cheese in olive oil. Spanish cheese is made from various types of milk. Cow, sheep and goat milk, but often also a mixture of these types.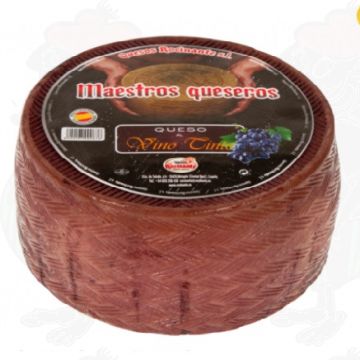 The Queso Tres Leches al Vino is a delightful Spanish cheese that o... more info
Cheese from Spain
Spanish cheese is not as well-known as French or Dutch cheese, but it definitely has the same quality. Spaniards have been specialized for years in making the tastiest cheeses. Did you know that Spain produces more than 100 different Spanish cheeses? These are some very well-known names, such as the famous Manchego cheese.
About Spanish Manchego
Manchego is the best known Spanish sheep cheese. It is the most important Spanish cheese today, both in Spain and abroad. Manchego is a delicious hard cheese. This cheese has been produced in Spain for a long time and is aged for 3 months. This Spanish cheese is named after La Mancha, where it originally came from. The cheese is made from pasteurized sheep's milk, after which the cheese is pressed into sturdy round cheese molds. Manchego is still made according to an authentic recipe. This means that the cheese may only be made with milk from the Manchega sheep.
The temperamental taste of Manchego
When you taste this cheese from Spain, it soon becomes clear that this is a real Spanish cheese. The Manchego is characterized by a temperamental taste. The cheese has a fat percentage of 50% and a nice full aromatic taste. The full aroma is best when you enjoy the cheese pure. Even after maturing, the Manchego remains relatively sweet with a slightly nutty taste.