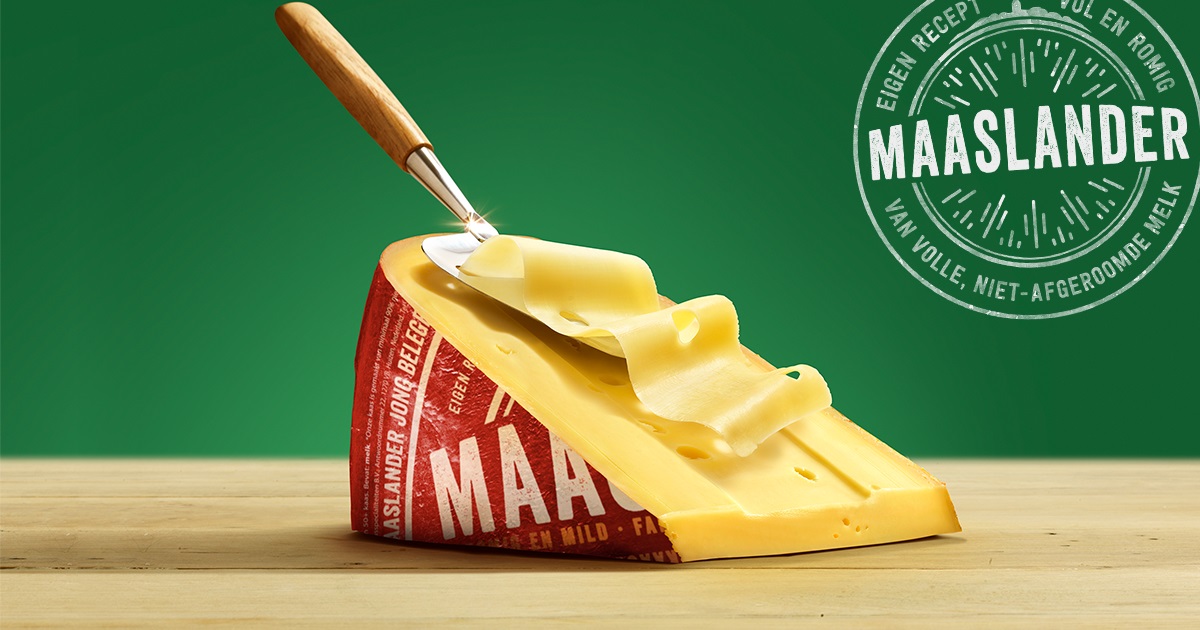 Maaslander cheese is a well-known cheese brand in the Netherlands. It is a semi-hard cheese with a mild, slightly sweet taste. The cheese is made from Dutch milk and has a characteristic yellow color and a smooth texture. Maaslander cheese is available in different variants, such as young and matured. It is often eaten as a spread or as a snack, but can also be used in various dishes, such as pasta and casseroles.
You can describe the taste as very full and creamy, without being too strong or overwhelming. It's the type of cheese that everyone loves and it's very versatile in the kitchen. Whether you're cooking a typical Dutch meal or something international, some melted Maaslander completes many dishes.
What distinguishes Maaslander from other cheeses is one of the steps in their production process. This cheese still contains the layer of cream that is usually removed from the top of the milk. The use of non skimmed milk is what gives it its mild, creamy taste. In addition, the cheese is pickled for a shorter time than usual, which makes it less salty than other cheeses.
You can cut the cheese into slices to top off your sandwich, eat it in cubes straight out of your hand or melt it in top of oven dishes or toast. It's the perfect addition to burritos, lasagna and many other types of oven dishes. And how about the classic grilled ham and cheese sandwich?
The several types of Maaslander cheese
In our assortment you'll find several types of full fat Maaslander cheese. They're all made of nothing but milk from cows that graze outside for the biggest part of the year. We have Maaslander in young, mild mature and aged versions. The aged version ripened extra long, which gives it a stronger flavor and a harder bite than the younger versions. It also contains less lactose. The young version of Maaslander has a milder taste and melts more easily.
Our Maaslander cheese is sold in one piece and sent to you cooled. Since it's vacuum packed it has a long shelf life, around two months. After opening, you can eat it for around 4 weeks, while storing it in the fridge after every use.