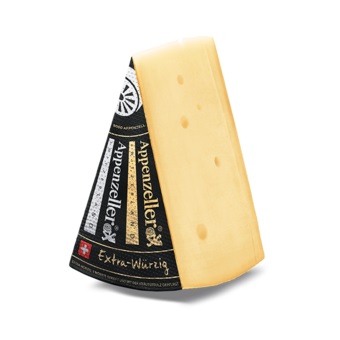 Swiss cheese comes in all shapes and sizes: a great diversity reflecting the varied Swiss landscape.
Swiss cheese

Swiss Appenzeller cheese
Appenzeller is one of the spiciest and most popular Swiss cheeses. This unique cheese is rubbed by hand during the maturing period with a special spice mixture, the recipe of which is still kept secret. Appenzeller is available in multiple variants, including Classic (Silver), Surchoix (Gold) and Extra (Black). Appenzeller Classic, better known as Appenzeller Soft, has a slightly spicy taste thanks to the 3-month maturing period and the secret spice mixture. Appenzeller Surchoix is aged for 4 months and has a wonderfully spicy and strong flavor. This Swiss cheese can be recognized by the gold label. Appenzeller Extra is aged for 6 months, which gives it a wonderful spicy taste and a strong aroma. The cheese can be recognized by the black and gold label.
Swiss Gruyère
Gruyère is delicious cheese of Swiss origin. It is named after the Swiss town of Gruyères. Gruyère has been carrying the AOC quality mark since 2001, so you can be assured of genuine Swiss quality.
Gruyère is characterized by a delicious sweet, nutty taste. It is also ideal for all kinds of dishes, including a tasty cheese fondue. Then there is the special variant Gruyère Kaltbach. This special cheese has an intensely rich, spicy taste due to the ripening in the moist sand caves of Kaltbach. The Gruyère Kaltbach is therefore one of the very best cheeses in Switzerland.
Swiss Tomme de Savoie cheese
Tomme de Savoie is a semi-hard cheese that is made in Savoie. Unpasteurized cow's milk is used to produce this cheese. The outside is characterized by a solid gray rind, while the inside is very light in color. The cheese is also characterized by a strongly present odor, which is slightly reminiscent of ammonia. It is low-fat and subtle with a fat percentage between 20% and 45%.