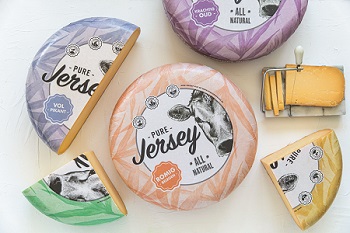 The Jersey cow is a special cow. This cow breed is not only 100% pure, but also produces delicious whole milk that contains more protein and fat than the milk of Dutch cows. In addition, the cows receive a well balanced diet, which benefits the quality of the milk. The Jersey Gouda cheese is produced with this milk. It is a very special cheese, because the milk is processed purely, without extra additives or extracting anything from the milk. Also a vegetarian rennet is used during the production process. The Jersey Gouda cheese is therefore an excellent cheese for vegetarians. A pure cheese for pure enjoyment.
Pure Jersey cheese
Pure Jersey is also called the "specialty beer" among the cheeses. The brand owes this nickname to the unique, characteristic cheeses. The varieties of Pure Jersey are all deliciously creamy in taste. This is largely due to the use of milk from the special Jersey cow. This special cow produces special milk, which ultimately makes the cheese special. Pure Jersey cheese is wonderfully full and creamy in taste. Moreover, the cheese is also suitable for vegetarians thanks to the use of vegetarian rennet.
The special Jersey cow
A long-term ban on imports of the Jersey cow has led to the Jersey cow being 100% purebred. A pure variety and you can taste it in the cheese. The roots of the Jersey cow can be found on the British island of the same name. The Jersey cow is very special. For example, the cow has a special appearance with a striking brown fur, hairy ears and white muzzle. Moreover, the Jersey cow is a lot smaller than the typical Dutch cow. The Jersey cow is also very curious and a little stubborn. The milk from the Jersey cow is therefore special. This milk naturally contains a lot of protein and fat, giving it a unique, creamy taste.
The special Pure Jersey cheese
Thanks to the creamy, protein-rich milk of the exceptional Jersey cow, the Pure Jersey cheeses are all unique. It is for good reason that Pure Jersey is called the specialty beer among cheeses. Jersey cheese is 100% natural and you can taste it. Nothing is added to the creamy Jersey milk. The cheese masters also use vegetarian rennet in their preparation, making the cheese ideally suited for vegetarians. Pure Jersey cheese is available in four delicious varieties: Tastefully Mild, Creamy Matured, Full Spicy and Wonderfully Old.