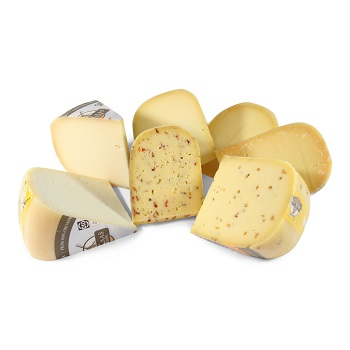 A delicious cheese selection pack helps you select the best cheese for any occasion. Maybe you don't host dinner parties at all, but you do want the most delicious cheese for your daily sandwich. Why not try out a wide selection and see for yourself which one you like best?
Choose a package with hard cheeses to find the perfect match for your favourite bread. Maybe you're on an adventurous streak and want to try a bunch of herb cheeses, without committing to one beforehand. Want to try some nettle cheese? Paprika cheese? Pesto cheese? You get to try them all and pick your favourite! Maybe you love cheese, but your kids don't. A cheese selection pack gives you the chance to try out all different cheeses without purchasing a big piece, so that your family can find a cheese you all love.
With a cheese selection pack, finding your favourite cheese is easy! You can find a big range of delicious cheese selection packs in the Gouda Cheese Shop.