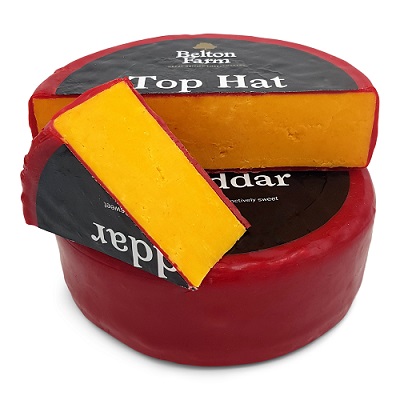 In the Netherlands, the delicious Cheddar cheeses from England are particularly known. But so many other types of cheese are made in England, from mild to piquant.
Mild English cheese
Red Cheddar is a delicious English cheese with a mild taste. Red Cheddar is also known as Red Leicester. This English cheese has its origin in Leicestershire. Pasteurized cow's milk is used for the production of the cheese. The cheese is characterized by a reddish orange skin with a powdery mold on it. This color is due to the addition of annatto during production. The cheese is aged for an average of 6 to 12 months. The young cheeses are quite mild and have a soft taste and structure.
Spicy English cheese
Aged Leicestershire Red and Cheddar Farmhouse Black are delicious cheeses from England with a spicy taste. Aged Leicestershire Red is English cheese from Leicestershire. The cheese is prepared entirely according to a traditional recipe and is an absolute favorite among cheese lovers. The cheese has already been awarded three times with gold at the International Cheese Awards. It is a unique cheese with a slightly sweet, caramelized and full flavor. Cheddar Farmhouse Black has been produced in Cheddar and other parts of South West England for centuries. This cheese is still made by hand. The semi-hard cheese has a full, rich taste and a unique appearance.
Piquant
Blue Stilton and Top Hat Cheddar are delicious cheeses from England with a piquant taste. Blue Stilton is one of the tastiest English cheeses. It is a beautiful white, somewhat crumbly cheese, which is completely veined by a blue mold. The soft crust is also edible. During ripening, this English cheese is pricked with long steel pins, so that the blue mold can penetrate nicely into the cheese. Blue Stilton has a unique, typical taste. Top Hat Cheddar is an English traditional style cheddar. A cheese with a slightly grainy structure and a soft, rich taste.