Texel Sheep Cheese and Goat Cheese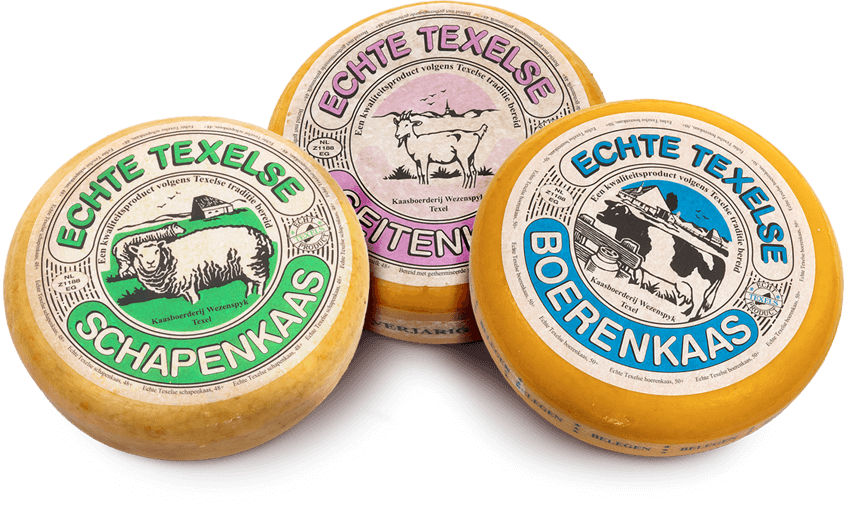 Cheese farmer Anton has been making special Texel cheese at Kaasboerderij Wezenspyk for more than 35 years. The adventure for cheese farmer Anton started with the production of classic Texel Farmer Cheese. Over the years, the range has been further expanded with the famous Texel Sheep Cheese and the special Texel Goat cheese. Farmer Anton's cheeses are regularly awarded. Will you visit Texel soon? Then a visit to the Cheese Café at Kaasboerderij Wezenspyk is a must. Here you can enjoy the delicious Texel cheese in special combinations.
Texel Sheep Cheese
Texel Sheep Cheese is made in the traditional way by farmer Anton at Kaasboerderij Wezenspyk. The semi-hard cheese is made from unpasteurized Texel sheep's milk. Sheep cheese is also made according to an old recipe. Wezenspyk also still carries the sheep cheese quality mark that has been used on the island for 400 years. The Texel Sheep Cheese is very special and cannot easily be compared with other cheeses. The cheese looks paler and drier than other cheeses and is also characterized by a slightly spicy taste. But don't worry if you don't like spicy; this taste is neither pungent nor predominant.
Texel Goat Cheese
Texel Goat Cheese is traditionally made by farmer Anton at Kaasboerderij Wezenspyk. After the success achieved with, among others, Texel Farmer Cheese and Texel Sheep Cheese, farmer Anton started making goat cheese in 2007. Nowadays Texel Goat Cheese is available in various ages, from young to old. There is a delicious goat cheese for every cheese lover. The hard goat cheese is traditionally made from unpasteurized Texel goat milk. This delicious, high-quality milk gives the cheese a beautiful white color.