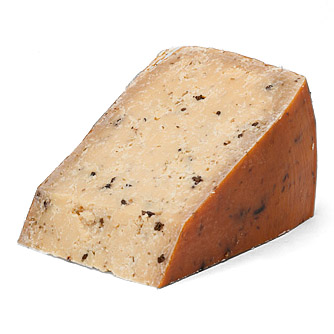 Frisian Clove Cheese, also known as 'nail' cheese, is a unique Dutch product from the Northern region called 'Friesland'. Known and loved in the Netherlands for its spicy, cutting and distinct taste, these cheeses are a must-try for the proper cheese addicts. Made from pasteurised skimmed cow's milk, the cheese is available in two variants: matured and aged. These cheeses are high in flavour, low in fat and very suitable to be sent abroad by post due to its firm texture.
Old Clove Cheese
As a true lover of old cheese, you must have tasted this Old Frisian Clove Cheese in your life. The characteristic taste provides a unique taste experience that you will not soon forget. This Old Clove Cheese has been allowed to mature in nature for no less than three years. This makes the cheese naturally dry and hard. The taste is unsurpassed, partly thanks to the added cumin and cloves, which have been able to do their work during the maturing process. The Old Frisian Clove Cheese is therefore a delicious spicy, spicy cheese.
Matured Clove Cheese
The Matured Frisian Clove cheese is slightly spicy to sometimes piquant in taste. This depends entirely on the type and amount of nails used. When you cut this cheese, the characteristic smell will come to you. This is an old-fashioned fragrance with a taste that is still very popular today. Thanks to the fragrant and spicy aroma, you already have an appetite for the cheese when you smell it alone. Like other clove cheeses, this Matured Frisian Clove Cheese is traditionally made with cloves and cumin. Thanks to the natural maturation process of 16-18 weeks, the dry and hard cheese has been able to absorb the flavors of the herbs.