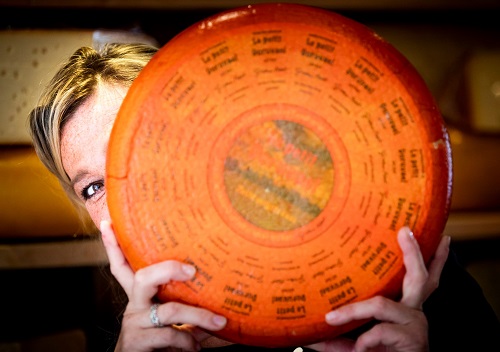 The character of Le Petit Doruvael can be described as rustic and friendly. This gem among farmhouse cheeses has a creamy structure and is full of aromatic flavor.
Discover Le Petit Doruvael: A Unique Washed Rind Cheese From The Green Heart
Le Petit Doruvael originated from a successful collaboration between Ad Vlooswijk, his son Jirco Vlooswijk and colleagues from Montfoort. This collaboration is characterized by a large dose of inventive spirit, curiosity and traditional craftsmanship. The farm of the Vlooswijk family is located in the middle of the Groene Hart, which is known as the cradle of the best farmhouse cheeses.
The Vlooswijk family has developed a special washed rind cheese that is a surprising addition to the rich Dutch range of cheeses. The exact production of this unique cheese is largely kept secret by the Vlooswijk family.
Le Petit Doruvael is made by hand and matures for a minimum of four weeks. The result is a cheese with a soft, creamy taste and a slightly nutty aroma. The cheese has a delicate, washed rind that gives it its distinctive appearance.
As proud ambassadors of the Green Heart and Dutch cheese culture, the Vlooswijk family has created a unique cheese with Le Petit Doruvael that has won the hearts of cheese lovers all over the world.