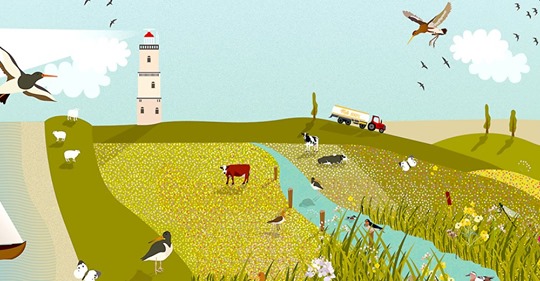 Skylger cheese is a special cheese with an authentic story. The cheese originated in Terschelling. Here the cheese is produced by cheese maker Jan-Willem Zeilstra in a new cheese factory. Skylger cheese is characterized by the use of pure, fresh Terschelling milk from the island's dairy farmers. But did you know that Skylger also contributes to a safer future for meadow birds on the island? For example, a delayed mowing date is used so that meadow birds have enough space to grow.
The special environment of Terschelling
Skylger cheese is produced by cheese maker Jan-Willem Zeilstra in Terschelling. Making cheese is his passion and his life. The cheese is made in the traditional way in the cheese factory in Terschelling. The new cheese factory in West-Terschelling is partly an initiative of Royal FrieslandCampina. Their strategy is aimed at the production of special cheeses with an authentic story. And Terschelling definitely has that. The Terschelling polder, located in the vicinity of the Wadden Sea, is more than 1,000 hectares in size and is characterized by its open landscape. Meadows are restored to their former glory here, for example by expanding wet meadows.
The Skylger variants
Skylger cheese comes in three delicious varieties: mild, matured and spicy. Each and every one of these variants is traditionally made from fresh Terschelling milk and based on a unique recipe from cheese maker Jan-Willem Zeilstra. Skylger Mild is a cheese with a mild and pure taste, which is creamy and fresh at the same time. Skylger Matured is a somewhat spicy cheese with a surprising bite. A delicious creamy cheese, at the same time salty and fresh thanks to the fresh Terschelling milk. Finally, Skylger Spicy is a spicy spicy cheese, which has a robust taste. All these variants are delicious for any time of the day: breakfast, lunch, dinner or snack.