You can securely pay in various ways at GoudaCheeseShop.com: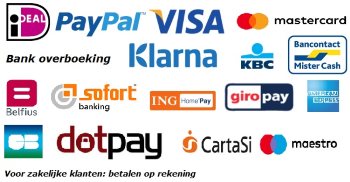 Secure Connection Mollie All payments are securely guided from your bank by Mollie. GoudaCheeseShop.com complies with the Personal Data Protection Act.

At GoudaCheeseShop.com, you always pay through our payment partner Mollie and Paypal.

Secure Payment with Mollie:
Manage online payments yourself.
Clear and familiar payment screens from your own bank.
Mollie is an independent third party between you and Kaashandel Peters - M&W B.V. regarding GoudaCheeseShop.com.
Secure payment connection.

Mollie ensures your safety with a secure SSL connection. Mollie has grown to become a leading payment service provider (PSP) in Europe.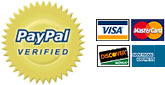 Paying with PayPal
You can place orders on our website and pay directly via PayPal. The ordered goods are then sent to you almost immediately after acceptance of your payment. You can pay via PayPal in two ways:
Directly through the credit card option. In this case, you do not need to create an account but can enter your credit card details directly and complete your payment.
You can also create an account and leave your credit card details there so that you can handle your payment with one click the next time.

What is PayPal?
PayPal is an international internet payment system for anyone with an email address. You can securely pay online using your credit card or your bank account number.

Is PayPal safe?
Absolutely, PayPal uses SSL technology to encrypt and secure your information over the internet. The recipient (in this case GoudaCheeseShop.com) does not see sensitive financial information like your credit card or bank account number. Only PayPal and the credit card company see and store this sensitive information behind heavily secured doors. Therefore, you don't have to worry when making payments to people you don't know.

Are there any costs associated with applying for a PayPal account? No, nothing stands in your way of sending money through your Personal PayPal Account. However, a modest percentage is charged when you open a Premier or Business Account. You can find more information about this on PayPal's website. To make a payment at Wayti, you do not need these extensive accounts. A simple Personal Account with PayPal is sufficient!

How can you pay with this PayPal account?
In the following two ways:
With your credit card or Via your bank account


Paying with your CREDIT CARD
Paying with your credit card has the advantage of speed, as the payment is processed immediately. Therefore, GoudaCheeseShop.com can send your order very quickly, so you will have it at home quickly as well.


Paying via your BANK ACCOUNT
Paying via your bank account is also possible if you do not have a credit card. If you want to pay via your bank account, you need a virtual account at PayPal to which you transfer a balance from your own giro or bank account. You then instruct your bank to transfer an amount to the new PayPal account. This usually takes three to four working days. Once the amount has been transferred to your PayPal account, you can enter and pay for your order. If you choose to create a PayPal account so that you can place and pay for your order online in three to four working days.

SSL connection
Your transactions take place on a secure SSL connection. This connection (recognized by the yellow lock in the lower right corner of your screen) guarantees a secure transaction with you and your bank. This is a strong form of encryption that prevents malicious parties from using your data. Your bank will place the transaction screen in your screen during the transaction. This way, you can shop online with confidence and security. Because the bank connects to GoudaCheeseShop.com via an SSL connection, only the icon (the yellow lock) will disappear. The same SSL security, however, is still present. GoudaCheeseShop.com guarantees a secure and reliable transaction with you and your bank. Payment is also safe from abroad via a secure SSL connection.

All your data, including your credit card number, is secured with SSL. Moreover, your credit card number is only used once for the payment of your order and is not stored further. GoudaCheeseShop.com will never be able to use your data a second time.

Payment procedure The payment procedure starts when you click 'Pay' in your order overview. The payment procedure via Multisafepay payments is now started. Choose a payment method and follow the instructions on the screen.

Magento Vault
Advantage The advantage as a regular returning customer is that you don't have to enter your credit card details every time. What is Vault Vault as a payment method offers store customers the opportunity to use previously stored credit card information for payment. This information is securely stored on the side of the trusted payment gateway of Mollie How to use You can enable or disable this option in your account in our webshop. When you disable it, all data will be removed from your Credit Card Vault. Payment via Credit Card Vault All payment information that is regularly collected via the Credit Card Vault is encrypted and maintained using industry-standard methods designed to ensure security against loss or theft, including during transmission to our external payment processing company ("Payment Processor"), currently Mollie, who handles your Payment Information on our behalf. Please note that your payment information is stored by our Payment Processor, not by us, and the use and storage of that information by the Payment Processor is governed by the applicable service terms and privacy policy of the Payment Processor.

Once the payment is completed, you will return to the site and receive an order confirmation via email.