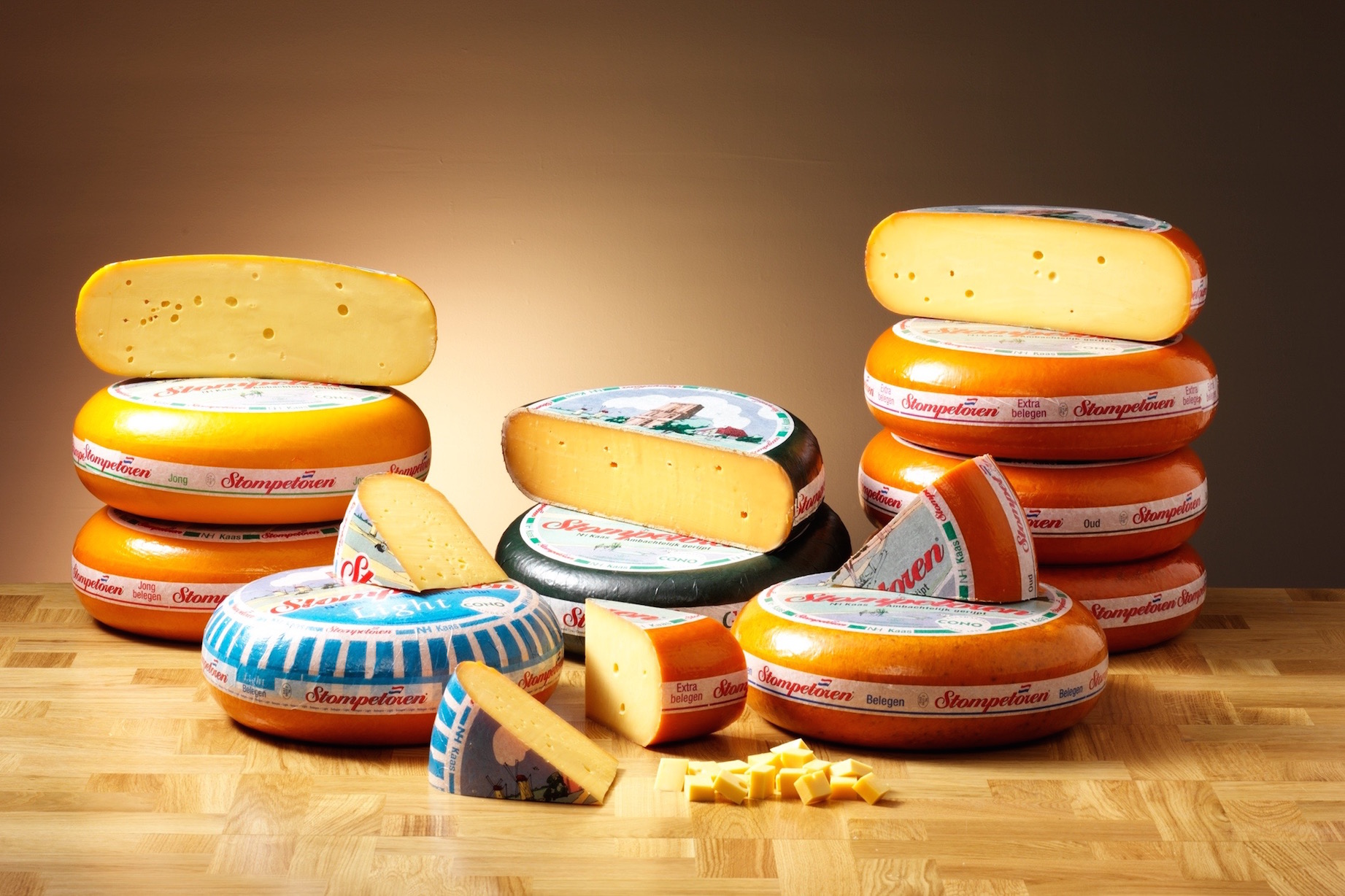 Stompetoren cheese owes its name to the village of the same name Stompetoren. This is a small village in the province of North Holland. The cows graze here, from which CONO cheese factory makes the delicious Stompetoren cheeses. These cheeses are all made from real pasture milk. The cows eat fresh grass and graze, walk and rest in the pastures. This makes them healthier. Moreover, eating fresh grass provides a creamy and flavorful milk. And you can taste it.
The range
Stompetoren has been the big prize winner at the Holland Cheese Inspection and other (inter) national professional competitions several times. Not without reason of course. The Stompetoren cheeses are full and creamy in taste, thanks to pasture milk but also as a result of the special ripening process. In the Stompetoren range you will find the following varieties: Young, Young Matured, Matured, Extra Matured, Old, Grand Cru and Cumin Cheese. The Stompetoren Matured is surely the best known variant. In the past, this beautiful cheese has won the title of "Tastiest cheese in the Netherlands". Stompetoren Matured is a creamy, full-bodied cheese that has matured for 3 to 4 months. Really everybody's friend.
Cooking with Stompetoren
Thanks to the extensive range there is something for every cheese lover. Do you like young matured cheese? Or do you prefer extra matured or aged cheese? Whatever your preference is, you will surely find it within the Stompetoren range. But did you know that the Stompetoren cheeses are also ideal for incorporating into your favorite dishes? Because cheese is so much more than just sandwich filling. Although the cheese from Stompetoren will definitely enrich your sandwich. But what about a delicious pasta salad with cheese? Or a tasty slice of Stompetoren cheese on your hamburger? Surprise your family or your guests with a delicious cheese fondue, creamy burritos or broccoli with cheese from the oven.