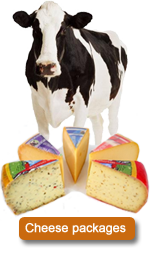 Farmhouse Cheese
October is again Farmers cheese month.
October is the perfect month to enjoy the best ripened Dutch farmhouse cheese made from raw milk.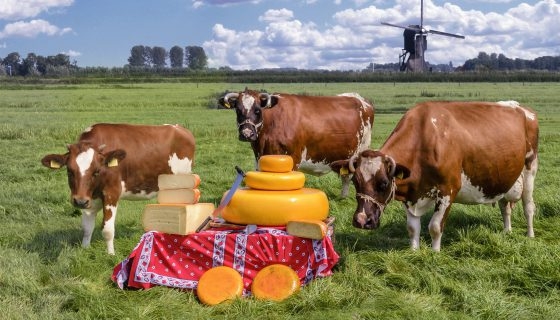 Farmer's cheese, also know as Dutch Farmhouse Cheese, is traditional cheese made on the farm. In the Netherlands there still are some 3000 farmers' families who make farmhouse cheese from the milk of their own cows. The milk that is used is day fresh and comes directly from the cow. The cheese therefore is sometimes called raw milk cheese. Traditionally it usually is the farmer's wife who makes the cheese, and often to her own recipe and method. And the feed, the grass and the soil differ from farm to farm too. All this gives farmer's cheese its strong, unique taste. Be surprised by this delicious cheese.
Very large handmade true crude milk cheese, fresh from the farm.

Learn More

Semi-mature farmer's cheese has been lying in a warehouse for about six months. It is a slightly mature cheese that has been produced with fresh milk instead of the pasteurized milk that is often used in factory made cheeses.

Learn More
A lovely farmhouse cheese Selection of Dutch Stolwijkse farmhouse cheeses!

The cheese package consists of:
1 x 500 grams Farmers Matured Stolwijker
1 x 500 grams Farmers Extra Matured Stolwijker
1 x 500 grams Farmers Old Stolwijker
1 x 500 grams Dutch farmhouse Jumbo Cheese



Learn More

In order to create a mature farmer's cheese a cheesemaker has to mature a cheese for seven to eight months. During this period of maturing some fluids in the cheese evaporate so that the cheese ends up being a little dry: all the flavours in the mature farmer's cheese are more concentrated than in new cheese.

Learn More
This farmhouse cheese has to lie in warehouse for ten to twelve months: it is a fully mature cheese. The fully matured farmers cheese tastes quite salty, it has a rich flavour and is a wonderful late night snack.

Learn More

Only after a very long maturing process you can call a cheese a farmer's crumbly cheese: it has been maturing for over two to three years. The farmer's crumbly cheese tastes very salty and rich: a real treat.

Learn More