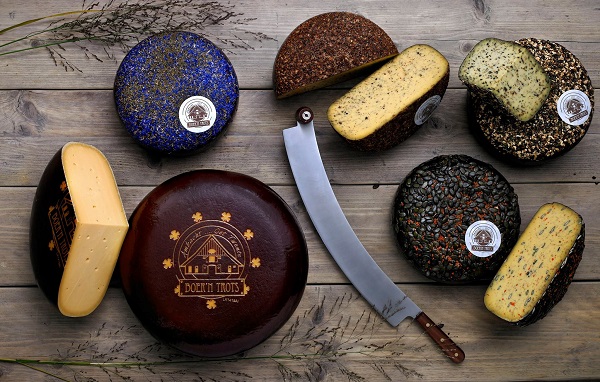 Unique range
Are you curious about the Farmer and Proud cheeses? Then you have an extensive and at the same time unique range of delicious cheeses to choose from. All cheeses are washed several times with caramel or honey after preparation. As a result of this treatment, the crust has a beautiful color and a characteristic, somewhat sweet taste. This makes the Farmer and Proud cheeses unique. The two absolute specialties are the Farmer and Proud Maple Syrup Whiskey and the Farmer and Proud X.O. The Maple Syrup Whiskey is a special crumbled cheese whose curd has been washed with Maply Syrup Whiskey during preparation. The X.O. is also called 'the discovery of Farmer and Proud', because it was created by accident. A special crumbled cheese that has matured for at least 80 weeks.
Farmer and Proud
Meet Farmer and Proud: special cheeses with a delicious, smooth taste. Farmer and Proud cheeses have been made since 1985 by the Nijland family at Estate Kaamps. Estate Kaamps is located in the small village of Deurningen, in the middle of beautiful Twente. This is where the Farmer and Proud cheeses are made with a lot of attention, love and care. Fresh milk is used for this. The range of Farmer and Proud is extensive and very diverse. So there is something for everyone.
Artisanal methods
The Farmer and Proud cheeses are produced using traditional methods at Estate Kaamps. Farmer Herbert always strives for the most sustainable production as possible for his beloved cheeses. The focus is on the care of his cows. Farmer Herbert believes that if you are good for the cow, she is also good for you. To obtain the best milk, he offers his cows the best food. For example, he sows extra clover in the meadows where the cows graze daily. As a result, fewer fertilizers are required, which is good for both the environment and the cows. Moreover, thanks to the clover, softer fats are added to the milk. This makes the Farmer and Proud cheeses so deliciously creamy.