Grassy Cheese - May cheese
Graskaas is a type of cheese that is traditionally made in the Netherlands during the springtime, when cows are first let out to graze on the fresh grass. The name "graskaas" literally means "grass cheese" in Dutch.

This cheese is typically made from fresh, raw milk that has a high fat content, which gives the cheese its characteristic creamy texture and rich flavor. Graskaas is usually aged for only a few weeks, which results in a young cheese with a mild, slightly sweet taste and a soft, smooth texture.

From the first delicious milk that is produced, Beemster is lovingl... more info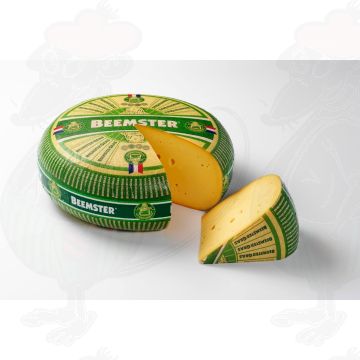 -25%

From the first delicious milk that is produced, Beemster is lovingl... more info
Regular Price
€220.35
Special Price
€164.95
Beemster Grass Cheese
Beemster cheese comes from the Beemster, the oldest polder in the Netherlands. Here the cows graze on grasslands that contain nutritious grass. Beemster cheese is available in various variants, but they all have their own character. Beemster Grass Cheese is made from milk from the first pasture. This grass cheese has a short natural ripening time of only 5 weeks. This young grass cheese is therefore wonderfully fresh, creamy and soft in taste. In addition, the cheese contains vitamins A, B and D.
Young Grass Cheese 2023
Young Grass Cheese 2023 is made from the first milk from the cows in the spring. This is when they first go outside and eat the tender, fresh grass. The first milk from these cows is therefore the best. Thanks to the use of this fresh milk, the young grass cheese has a nice, creamy taste. So you can almost taste spring in grass cheese. It is therefore a delicious delicacy. Grass cheese is soft and more yellow in color than other cheeses. This is because the grass contains extra carotene.
Farmer's Grass Cheese
Finally, there is another delicious variant: Farmer's Grass Cheese. Grass cheese is a seasonal product that is becoming increasingly popular. Many people look forward to spring because of the arrival of grass cheese. Farmer's Grass cheese is also made from the first milk of the cows in the spring, as soon as they are allowed to graze outside again. This milk gives Farmer's Grass cheese an extra creamy, soft taste. The cheese is deliciously creamy and full of flavor. The ripening time of Farmer's Grass Cheese varies between 5 and 10 weeks.