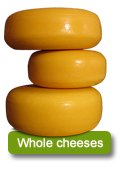 Details Frau Antje Pikantje - Gouda Cheese | Premium Quality
Frau Antje Pikantje is a middle age Holland Gouda, aged for at least 4 months.
If you want to enjoy a piece of hearty spicy Holland Gouda, take the best Frau Antje Pikantje. Because this cheese is matured guaranteed four months of the bark and of controlled quality. To recognize it is the red, white and blue label on the golden wheel of cheese.
During ripening, the cheese loses water and gains in flavor!
Ingredients:
Fat 48+ , pasteurised cow's milk, rennet, salt, lactic acid, vitamins A, B and D

Quality:
Your cheese is freshly cut and vacuum-packaged!
The hard structure of Dutch cheese makes it perfectly suitable for sending by post.
This is an original Gouda cheese from the Netherlands:


Additional Information
| | |
| --- | --- |
| Dimension whole cheese | No |
| Brand | Frau Antje Pikantje |
| Flavor strength | Pithy |
| Nutritional information | per 100 grams |
| fat (gr) | 32,5 |
| Saturated fat (gr) | 20 |
| Calcium (mg) | 821 |
| Calories (kcal) | 368 |
| Kilojoules (KJ) | 1526 |
| Carbohydrates (gr) | 0 |
| Protein (gr) | 25,5 |
| Sodium (mg) | 719 |
| Type of milk | Cow |
| Pasteurised | Yes |
| Lactose free | No |
| Gluten free | Yes |
| Type of rennet | Abomasal rennet |
| Sugar free | Yes |
| May contain traces of peanuts. | Yes |
| Edible cheese rind | No |
| Recipe | No |