Cantenaar 30 + Cheese - Holland Master | Premium Quality | Entire cheese 11 kilo / 24.2 lbs

Cantenaar has a unique taste: refined and spicy, sweet and nutty accents.
Under the name of Vermeer cheese, this cheese has wone the worldchampionships 2012 in the United States.
Buy cheese online for private and business customers.

Freshly cut & Vacuum sealed - Extra long shelf life!

MORE THAN 350 TYPES OF CHEESE - Cheese sellers since 1970

Refrigerated worldwide shipment

GIFT? CHANGE ADDRESS AT CHECK-OUT
On purchase of an entire cheese, you will receive a 20% discount.

Cantenaar has a unique taste: refined and spicy, sweet and nutty accents.

Frico Cantenaar is a tasty 30 + cheese with 40% less fat and 25% less salt. Due to the specific production of Frico Cantenaar creates small white dots. These white dots are protein crystals. These protein crystals are a characteristic taste and partly determines Frico Cantenaar.

Nothing for nothing Cantenaar tested as best in the world championships cheese labels in the United States.
Cantenaar is known abroad as Vermeer cheese.
Matured naturally for 9 - 11 months.

Ingredients:
Fat 30+ , pasteurised cow's milk, rennet, salt, lactic acid, vitamins A, B and D

Quality
The hard structure of Dutch cheese makes it perfectly suitable for sending by post.

How to cut a whole Gouda cheese!
Depending on the size and the weight you want to cut, you can choose to offer flat pieces (great for cubes or grating) or triangles.

Regardless of how you cut, Gouda cheese are best cut 30 minutes after they are removed from refrigeration. Older cheese are most easily cut after at least 1 hour at room temperature. All Gouda cheeses are best cut using a wire or a professional cheese knife. Also available in our webshop!

First cuts may have to be made at the edge of the wheel, by using a knife. These cutting suggestions should leave every piece with about the same cheese/rind percentage.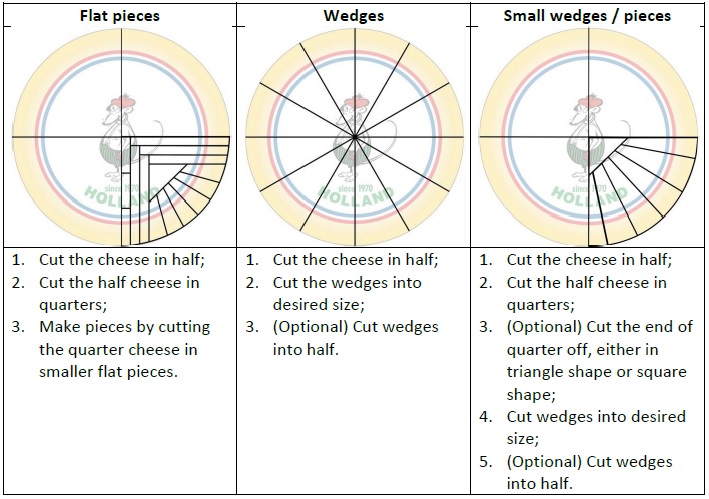 Gouda Cheese Shop hopes that the diagrams and cutting instructions we have provided will ease the Gouda cheese cutting process.
Brand : Cantenaar
Country origin : Netherlands
More information

| | |
| --- | --- |
| Brand | Cantenaar |
| Country origin | Netherlands |
| Nutritional information | per 100 grams |
| fat (gr) | 19 |
| Saturated fat (gr) | 13 |
| Calcium (mg) | 815 |
| Calories (kcal) | 300 |
| Kilojoules (KJ) | 1270 |
| Carbohydrates (gr) | 0 |
| Protein (gr) | 32 |
| Sodium (mg) | 800 |
| Type of milk | Cow |
| Gluten free | Yes |
| Type of rennet | Abomasal rennet |
| Sugar free | Yes |
| May contain traces of peanuts. | Yes |
| Edible cheese rind | No |
| Lactosevrij | Yes |
| Pasteurised | Yes |
| Limited shelf life | No |
| Made of Meadow Milk | Meadow milk comes from farms where the cows are free to roam in meadows for at least 120 days each year, from Springtime through to the Autumn, and for at least 6 hours a day. |