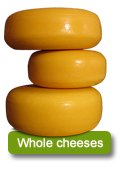 Details Old Peter | Premium Quality
Extra quality cheese. Gorgeously spicy and creamy in flavour, with lovely salt crystals embedded in the cheese. Matured naturally for 14 months.
Ingredients:
Fat 48+, pasteurised cow's milk, rennet, salt, lactic acid, vitamins A, B and D
Quality
Your cheese is freshly cut and vacuum-packaged!
The hard structure of Dutch cheese makes it perfectly suitable for sending by post.
Original Gouda Holland Cheese


Additional Information
| | |
| --- | --- |
| Dimension whole cheese | +/- 37 cm Ø x 11 cm H |
| Brand | Home brand Freshly cut |
| Flavor strength | Piquant |
| Nutritional information | per 100 grams |
| fat (gr) | 32,5 |
| Saturated fat (gr) | 20 |
| Calcium (mg) | 871 |
| Calories (kcal) | 368 |
| Kilojoules (KJ) | 1526 |
| Carbohydrates (gr) | 0 |
| Protein (gr) | 25,5 |
| Sodium (mg) | 791 |
| Type of milk | Cow |
| Pasteurised | Yes |
| Lactose free | Yes |
| Gluten free | Yes |
| Type of rennet | Abomasal rennet |
| Sugar free | Yes |
| May contain traces of peanuts. | Yes |
| Edible cheese rind | No |
| Recipe | No |