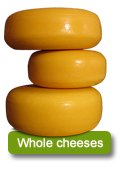 Details Raclette Cheese
With a product like raclette cheese you can enjoy it in a different way than you used to. The taste is described as full and creamy. The structure and the flavours make it perfect for melting. So you can also make a delicious fondue or use it for gourmet or garnish. But you can also melt it on your bread.
Ingredients:
Fat 26+ , pasteurised cow's milk, rennet, salt, vitamins A, B and D
Quality:
Your cheese is freshly cut and vacuum-packaged!
The hard structure of raclette cheese makes it perfectly suitable for sending by post.
Additional Information
| | |
| --- | --- |
| Dimension whole cheese | No |
| Brand | Home brand Freshly cut |
| Nutritional information | No |
| fat (gr) | 28 |
| Saturated fat (gr) | No |
| Calcium (mg) | No |
| Calories (kcal) | 350 |
| Kilojoules (KJ) | 1452 |
| Carbohydrates (gr) | 0.5 |
| Protein (gr) | 24.5 |
| Sodium (mg) | No |
| Type of milk | Cow |
| Pasteurised | Yes |
| Lactose free | No |
| Gluten free | No |
| Type of rennet | Abomasal rennet |
| Sugarfree | No |
| May contain traces of peanuts. | Yes |
| Edible cheese rind | Yes |
| Recipe | No |
You may also be interested in the following product(s)