Enjoying a cheese fondue together is one of the nicest ways to spend an evening meal with family and friends. There is a very nostalgic feeling to it, and sitting together around the table eating delicious melted cheese from one fondue pot, with your own uniquely colored fork is fun. It also resembles a game, not to lose your own piece of bread or vegetable in the 'cheese soup', or to get away with someone else's. If you are looking for a fondue pot, set or other tools, you can find it all on our website.
The origins of cheese fondue
Cheese fondue goes all the way back to the eighteenth century, when it was first mentioned as a dish in Switzerland. Later on it was also introduced in France and Italy. Afterwards it was spread all over the world, especially Europe. The word fondue originates from the French verb fondre, which means melting. In Switzerland a group of inhabitants even formed their own Swiss Cheese Union in the 1930s to increase cheese consumption all over the world. They promoted it fiercely, saying that "fondue created a good mood". Especially in the seventies fondue was very popular, probably because of the sharing that characterizes eating from a communal pot.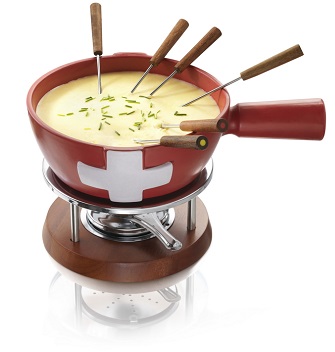 Homemade cheese fondue
You can eat cheese fondue in a restaurant, but it is also a great dish to make at home. Because it is very easy to make, it won't cost you a lot of time. You can buy the most important ingredient, the cheese, in the Gouda Cheese shop. With the delight of good cheese and good company, an enjoyable evening is guaranteed! Another advantage is that children like it very much, since it resembles a game and they can cook on their own, instead of passively waiting until their meal is served.
Ingredients
This dish is traditionally made of different kinds of cheese and wine, which adds a special taste to it. The cheese is held on temperature by the pot in the middle of the table. This is heated by a candle or a spirit lamp, over a réchaud. You can dip bread, vegetables, fruit or potatoes in it. It needs to have a solid texture, so you won't lose it in the cheese. It is preferable to use a fondue pan, but it is also possible to use a normal pan, made from a solid material such as cast iron. 

How to prepare the meal
Cheese fondue consists of a blend of cheeses, wine and seasoning. You start with rubbing the fondue pot with a cut garlic glove. Gently heat the white wine, and slowly add the grated cheese so that it melts evenly. The traditional cheeses that are used are Gruyère and Emmental. Add some cornstarch to prevent the ingredients from separation. It is important to keep on stirring. During the meal the fondue should be kept on temperature, to keep it smooth and liquid; but be careful that it doesn't burn.  In Switzerland next to the meal, pickled gherkins, olives and onions are served as a side dish.