On our website you can find a cheese package that will suit your taste. We have different packages with different kind of cheese. Old, matured, semi matured or organic, you name it. Selections like these are ideal to try different tastes or to take with you on holiday. Furthermore, we have different cheese brands also put together in cheese selections. Brands like Old Beemster, Farmhouse, Old Amsterdam and Old Friends are combined in one cheese selection. Take a look at our website and choose the best cheese that suits your taste.
Cheese selection, a Dutch gift
Other examples for cheese selections are:
Low fat package
The organic package
The herb packages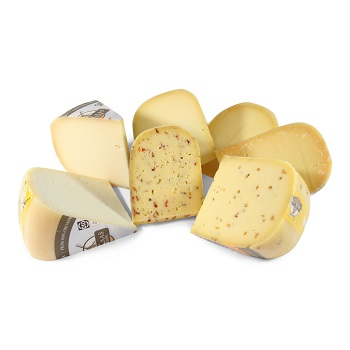 When you give a cheese selection like these, you give cheese a whole new dimension. In the description of the organic kind you read all additional nutritional information like the amount of fat, protein and calories. The organic set consists of three different pieces of 500 grams/1.1 lbs cheese:
Organic semi matured cheese
Organic cheese matured/extra matured
Organic cheese old
If you prefer a different kind of cheese, we have packages of our best three cheeses, the Beemster package or a set with the finest Dutch cheeses. The last one consists of six kinds of cheeses like Farmers mature, biological cheese mature and tomatoes olives cheese. There are many kinds of sets, which are also nice to give as a present.
Your favourite taste
So picking one of the selections is the best way to try a different kind of cheese. Usually we go to a cheese shop and buy the regular kind we always eat. But they are so many kinds we can try. Try a cheese package from goudacheeseshop.com to enlarge your taste of cheese. Perhaps you discover a new kind of taste. 
See our cheese selections