Enjoy cheese in a whole new way with smoked Gouda
When it comes to smoked food most people are familiar with a lot of different foods that can be smoked. Of course there is smoked sausage, smoked salmon, different kinds of smoked meat and the list can go on. What most people do not directly associate with smoked foods, is cheese. And yet, smoked Gouda is one of the most delicious delicatessen you can find. Especially if you are a cheese enthusiast. Smoked Gouda is made like all smoked foods. The cheese is typically made as normal cheese and the smoked flavor is added afterwards by smoking the cheese. The combination of cheesy and smoky flavors works very well. For those people who are not necessarily fans of cheese but who do like smoked foods, smoked Gouda might just be right for you. Of course smoked Gouda still tastes like cheese, but the smokiness really puts in on a different level. All smoked foods have that same smoky flavor in common. So who knows, smoked Gouda might just be right for those who normally do not seek to eat cheese. Of course most people do not like all cheeses since there is so much variation and thus so many flavors.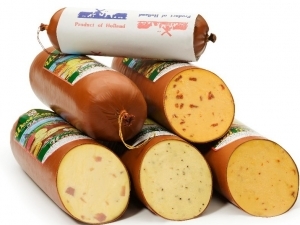 Is it a good idea to order cheese online?
Of course it is not strange to think that cheese cannot really be sent via post. It is a fresh product and once you pack it, it normally needs to be cooled. To solve this problem all cheeses, and so also the smoked cheeses, are freshly cut from the blade and immediately after wrapped in vacuum. Once the cheese is properly wrapped, you can easily keep it for 5 to 6 weeks. Shipping is no problem since the cheese always has a hard cover which makes it perfect for transport. You will not find any problems in that domain. So, if you want to have a nice exclusive cheese to add some flavor to your dish, then you can easily order your smoked Gouda online. 

Where do I find smoked Gouda?
When it comes to cheese Gouda is of course one of the best brands. This brand is know all over the world. This is not surprising since Gouda has been around for a long time and this company has been active in the world of cheese for generations. This is why such innovations like smoked cheese, but also cheeses with herbs and melted cheese, have been developed by Gouda. Via a website like goudacheeseshop.com you can easily order any kind of cheese you need. So if you want to try some smoked cheese, this is a good website to start. Of course you can go the supermarket for any kind of normal cheese. But as soon as you want something more exclusive, the internet is often a good place to look. Supermarkets usually cover all the basics, but something like smoked Gouda is hard to find. Plus, a website like goudacheeseshop.com gives you the option to choose your own quantities.